The All-New 2021 Jeep Grand Cherokee L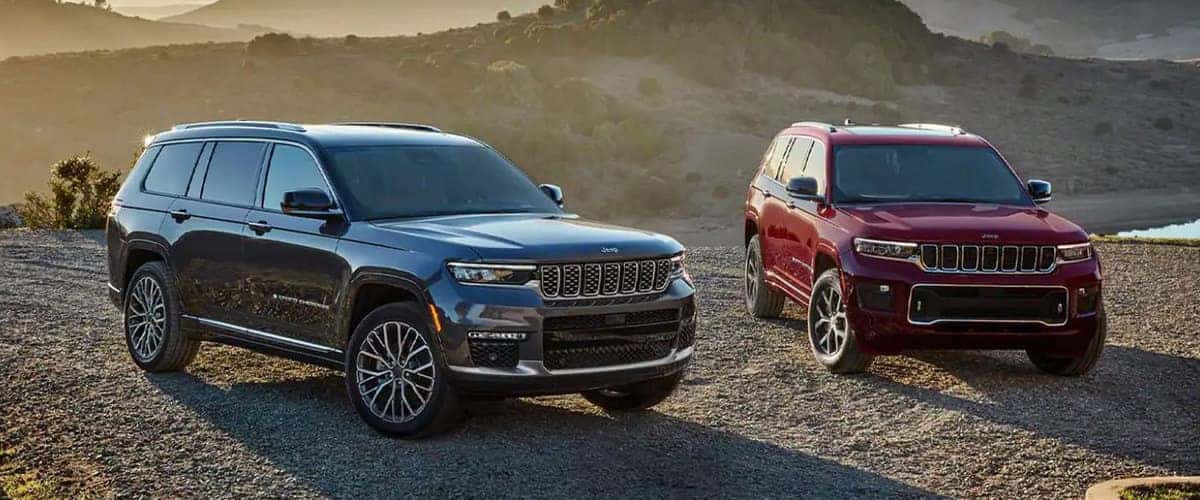 The iconic Jeep Grand Cherokee L is a favorite vehicle for discerning buyers, offering extraordinary versatility for whatever your needs may be. Whether you're cruising to the office or heading into the mountains for a hunting trip, this vehicle will take care of your every need. Here's a breakdown of everything that comes with the all-new 2021 Jeep Grand Cherokee L at Patriot Mac, and what great features you can get with this fantastic vehicle.
Rugged Versatility
The all-new 2021 Jeep Grand Cherokee L is made for going off-road, offering you the chance to use the top-notch engineering that performs well in any situation. And the Grand Cherokee L offers another third row of seats, guaranteeing you the chance to bring plenty of family and friends along on your adventures.
This vehicle offers many great features across the board. From a 4G LTE Wi-Fi hotspot and second row USB ports, to the fantastic touchscreen to help you navigate your way, the technology is sure to make your life easier. Other technological features include Apple CarPlay, Google Android Auto, GPS antenna input, integrated voice command with Bluetooth, and a rear seat entertainment system. And on the outside, whether it's the great suspension, the high ground clearance, or the maneuverability and traction, it's hard to beat what this rugged vehicle has to offer.
Six Trims to Choose From
The all-new 2021 Jeep Grand Cherokee L has a grand total of six unique trims to choose from. These are the Laredo, Altitude, Limited, Overland, Summit, and Summit Reserve. All these options come at affordable prices, getting you on the road or into the mountains without breaking your bank.
So, whether you want the standard trim, or you want to splurge for everything you can get, Jeep has something to offer you. For all these trims, you can get whatever exterior color you want. Colors from white to black with everything in between are available for all trims.
Laredo
This is the standard trim, but it still manages to impress. With a wide range of great features, the Laredo provides reliable toughness at a reasonable price. The Laredo contains all the great features already mentioned, including safety features, great suspension and clearance, advanced braking systems, and the newest technologies and connections. You also get easy sliding second row seats, and beautiful exterior LED lighting for optimal visibility. Your passengers will love riding along with the modern amenities and stylish comfort of this vehicle!
Standout Features
Safety: With the Laredo, you get additional safety features like collision warning, blind spot monitoring, and backup cameras to keep you safe wherever you go!
Hands-On Navigation: The Laredo includes a large 8.4-inch touchscreen, giving you easy access to navigation and connectivity. Now you'll always know how to get to your next destination!
Altitude
Want something that stands out? The Altitude upgrades your drive and your style, adding sleek gloss black wheels and exterior accents that set you apart wherever you go. And while you're at it, the Altitude has upgraded capabilities and comfort features. You'll be climbing mountains and driving across streams, all with the comfort of modern amenities.
Standout Features
4×4 Drivetrain: With the 4-wheel drive upgrade, you can go off-road whenever and wherever you want!
Comfort and Ease: Leather-trimmed seats and heated front seats leave you feeling great, while a wireless charging pad lets you connect without the hassle of wires and plugs.
Limited
The Limited trim steps things up yet another level. These comfort, entertainment, and decorative upgrades will make sure your Jeep stands out. Wherever you go, the Limited trim gives you a ride like no other and turns heads while doing it.
Standout Features
Even More Comfort: With premium Capri leather seats, heated second row seats, and a heated steering wheel, you and your crew will be riding in luxurious warmth. This is perfect for those cold winter mornings and those snowy mountain trips!
Improved Sound: With a trial of Sirius XM, an HD radio, and additional premium speakers, you get a listening experience like you've never had before. Get lost in a wave of perfect sound!
Overland
The Overland is your go-to choice if you want a vehicle that can drive in practically any weather. To go along with its wilderness capabilities, the Overland offers power folding third seats that will give you plenty of room for all your gear and equipment. Try out the Overland and enjoy your time in the great outdoors!
Standout Features
Panoramic View: With a double-paned panoramic roof, the Overland lets you enjoy viewing the elements no matter the season or weather!
Improved Suspension: The Overland has been upgraded to give you 24 inches of water clearance, letting you ford rivers, climb rocks, and go practically anywhere!
Summit
Things really step up when you go for the all-new 2021 Jeep Grand Cherokee L Summit. With a huge range of advanced safety features, this Jeep does everything while keeping you safe on the road. Besides safety, the Summit is built around comfort and integrated features with a larger 10.1-inch touchscreen lets you entertain and navigate your way wherever you want to go.
Standout Features
Advanced Safety: The Summit has additional safety features, including Parallel Park Assist, Intersection Collision Assist, a 360-degree view camera, traffic sign recognition, and even drowsy driver detection. You can feel secure wherever you drive in your Jeep Grand Cherokee Summit!
Extra Comfort: The new 16-way adjustable front seats (with memory and massage features!) give you the most comfortable ride you've ever had.
Summit Reserve
The Summit Reserve is the peak of the 2021 Jeep Grand Cherokee L line. It doesn't get any higher than this! With this top-of-the-line trim, you and your guests will be traveling in the epitome of luxury, comfort, and style.
Standout Features
State-of-the-art Sound: The Summit Reserve upgrades the sound system even further, giving you 19 speakers and a 10-inch subwoofer to guarantee that your trips are like no others.
Peak Luxury: With quilted Palermo leather seats, 21-inch polished aluminum wheels, and ventilated rear seats, you'll be the fanciest car on the road anytime, anywhere.
Try The New 2021 Jeep Grand Cherokee L at Patriot Mac Today!
If you're interested in getting an all-new 2021 Jeep Grand Cherokee L that can take you where you want to go, or if you want to look at any of these trims or extra features, we'd love to help you out! Feel free to contact us with any questions or you might have or stop by for a visit. At Patriot Mac we are happy to help in any way we can so that you leave satisfied and happy with your new purchase. If you're interested in learning about more of Chrysler, Dodge, Jeep, or RAM top models be sure to check out our research hub!