The New 2021 Dodge Charger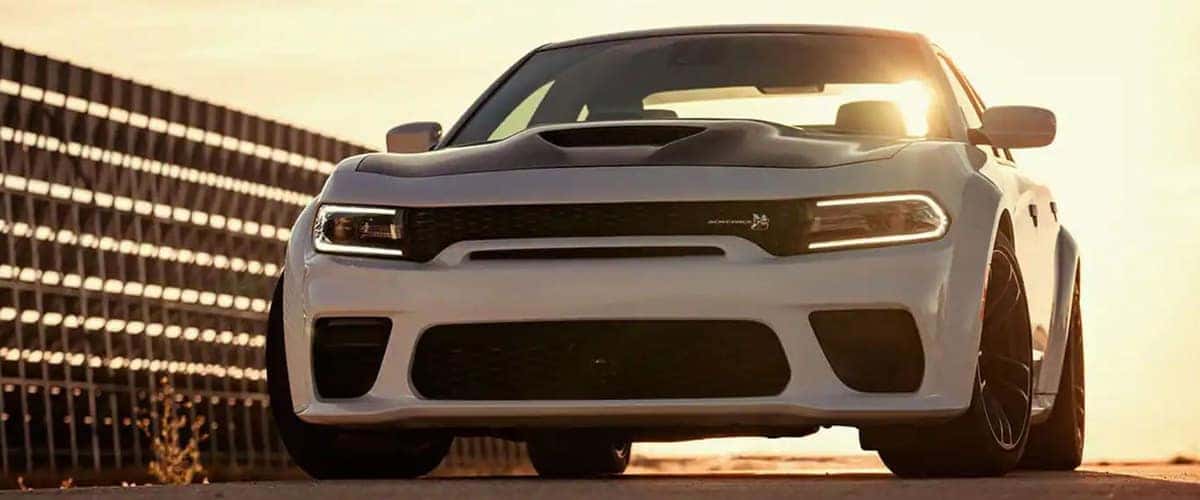 For 2021, the Dodge Charger was given the 3rd consecutive Brand Image Award from Kelley Blue Book. This award is given to vehicles that have both outstanding design and looks, and when power meets design, you can't go wrong! A muscle car with 7 generations and over half a century's worth of history, the Dodge Charger is a must-have for your American Muscle enthusiasts. And even better is, this year's model is updated to give you the best Dodge has to offer. If you want to know more about the new 2021 Dodge Charger, then you're in luck. We're here with all the information you need to know in this 2021 Dodge Charger in depth guide!
A Force to Be Reckoned With
The 2021 Dodge Charger is a sleek muscle car that's instantly recognizable on the road. It seats 5 people and despite having a cool design, it doesn't compromise on space at all. Your passengers will have plenty of head and legroom. And in the back, you'll get 16.5 cubic feet of room in the trunk, which is plenty of space for your belongings. You can even fold the rear seats down to fit larger items. For the standard engine, this muscle car comes with a 3.6L V6 that's capable of 292 HP and 260 lb-ft of torque. You can also choose a more powerful 3.6L V6 or several V8 engine choices as well.
6 Available Trims
The new 2021 Dodge Charger comes in 6 trims: SXT, GT, R/T, Scat Pack, SRT Hellcat, and SRT Hellcat Redeye, which is new to the 2021 lineup. Find out what each one includes below!
SXT Trim
The SXT trim comes with the standard engine and rear-wheel drive. You can upgrade to all-wheel drive at this trim level as well! Standard features included here are cloth upholstery, rear parking sensors, and power-adjustable front seats. The infotainment system has a 7-inch touchscreen, 2 USB ports, Bluetooth, satellite radio, Android Auto, and Apple CarPlay.
Unlike many standard trims of other cars, the new 2021 Dodge Charger has upgrade options available. They include features like a heated steering wheel, Wi-Fi hotspot, navigation, automatic emergency braking, blind spot monitoring, and more.
Standout features
Power-adjustable front seats: get your seat at the perfect angle for trips both short and long
Rear parking sensors: never worry about tapping other cars when trying to squeeze into tight spaces
GT Trim
Here, the GT trim still has a V6 engine but it's a more powerful 300 HP one. Standard features you'll get with the GT trim include a uniquely styled front bumper, 20-inch wheels, a hood scoop, a rear lip spoiler, and dual-zone climate control. This trim's infotainment system benefits from a larger touchscreen (8.4 inches), as well as a Wi-Fi hotspot and HD radio.
Standout features
Dual-zone climate control: keep everyone in the vehicle comfortable and squabble-free
Wi-Fi hotspot: stay connected to the internet, no matter where you go
R/T Trim
Looking for a more powerful trim? Well, the R/T one comes with a Hemi V8 engine capable of 370 HP, so if you want power without excess this may be the trim for you! Otherwise, the other features of the R/T trim mirror the GT model, including the optional upgrades. Do note that you have more choices available though, such as an amazing 19-speaker sound system. So, if you'd like to browse more options, you'll be able to customize here.
Standout features
Hemi V8 engine: tear up the road with this beast of an engine
More upgrades: customize your muscle car even more with this wide range of upgrade choices
Scat Pack Trim
The Scat Pack trim comes in 2 versions: regular and widebody. You can opt for the widebody for an upgrade fee. This trim gives you a V8 engine that's capable of 485 HP, which is a step up from the other trims. Standard features that come with this model include a stiffer suspension, a limited-slip rear differential, launch control, and line lock modes, an upgraded cooling system, heated front seats, a heated steering wheel, and high-performance Brembo brakes.
Standout features
Upgraded cooling system: push your car to its limits without fear of it overheating
Brembo brakes: with these high-performance brakes, you'll be able to stop on a dime
SRT Hellcat Trim
Speed demons, here's the trim for you: the SRT Hellcat gives you a supercharged V8 engine that's capable of 717 HP! This is almost double the number from just the previous trim. The SRT Hellcat model also comes with widebody fenders, leather upholstery, ventilated front seats, heated rear seats, and blind spot monitoring. This power doesn't come without a cost however, as you'll have to sacrifice some of the standard safety features available on the lower trims. So you might want to keep this in mind.
Standout features
Supercharged V8 engine: make other drivers envious with your roaring engine
Leather upholstery: drive around sitting in absolutely luxurious seats
SRT Hellcat Redeye Trim
The SRT Hellcat Redeye is new for 2021 and is an absolute beast of a powerhouse! For instance, it has the most powerful supercharged Hemi V8 engine, which puts out 797 HP. Besides this, it's almost identical to the SRT Hellcat. So, if you wanted the most power available, this is it!
Standout feature
Supercharged Hemi V8 engine: this trim offers the most powerful engine possible for this muscle car
The New 2021 Dodge Charger at Patriot Mac
The new 2021 Dodge Charger is a highly rated vehicle, and for good reason. With its ridiculously good looks, powerful engines, and wide variety of standard features, this car is a fantastic addition to any household. So why not come check it out? We promise you won't regret it! If you have more questions, feel free to contact us or use the online chat feature and we will reach out as soon as possible. If you want to see this vehicle for yourself visit Patriot MAC today and we will get you set up with a test drive. With the Patriot Pledge, you're covered for life! If you're interested in more of Chrysler, Jeep, Dodge, or Ram top models, be sure to check out our research hub!